Covid Protocol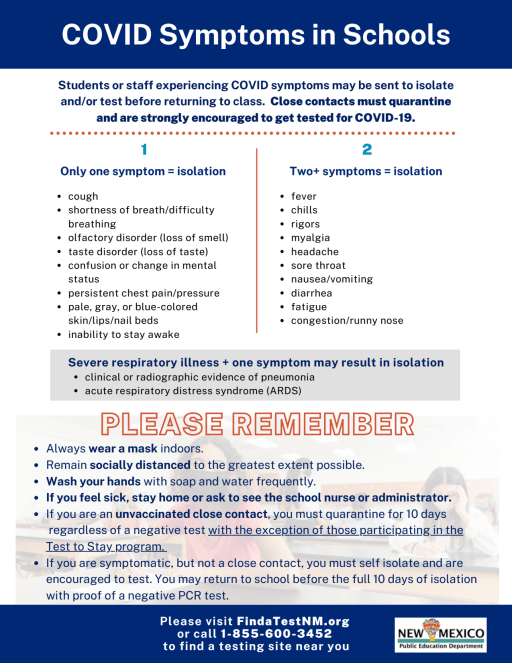 current covid numbers - updated 1/30/2023Grade Level (Number of Positives)
6th Grade (0)
7th Grade (1)
8th Grade (0)
9th Grade (0)
10th Grade (0)
11th Grade (0)
12th Grade (0)
Staff (0)
14 Day Rolling Count (1)
Reporting a COVID Case
SAMS Academy works closely with NMDOH and NMPED to ensure all of our students are safe when we have a positive case. Please click below if your child has tested positive for Covid.
Does my student need to quarantine?
If your student has been informed they are a close contact (either from a schoolmate or outside of school), please fill out the following form. This will help make a determination of return date.
COVID Testing
SAMS Academy is currently providing COVID testing for students and staff that are symptomatic. This program will end if SAMS Academy runs out of testing supplies.
Eligible students whose families have emailed or provided other written documentation to administration with consent to test their student, can take a rapid, shallow, nasal swab test at the school. Tests are administered by a trained professional. As long as they test negative, they can stay at school.
plan for safe return to in-person instruction and continuity of services (COVID Policy - approved 9/16/2022)Let Amanda Catanzaro know if you have any questions.